3.3. 1: Available Energy Resources
The initial starting point for all of the Earths available energy is the sun. All the systems of the atmosphere and biosphere are ultimately dependent upon the amount of solar radiation reaching the planet. Climatic patterns are driven by insolation, as is the productivity of all ecosystems. Either directly or indirectly this creates the pool of human exploitable energy resources.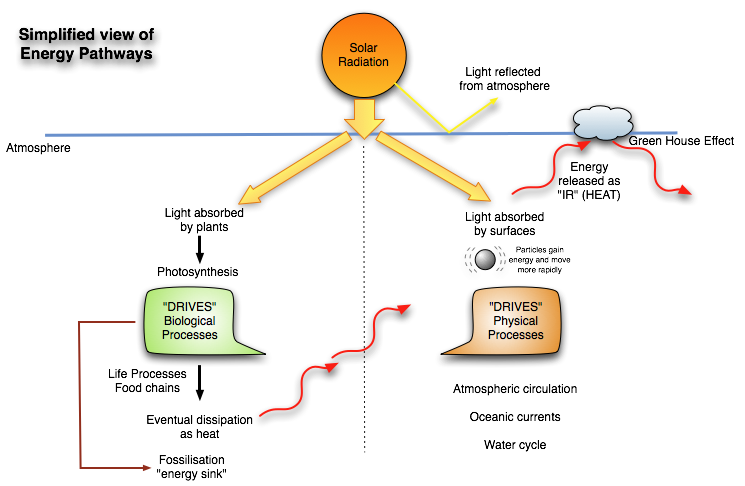 Photosynthetic plant material converts light energy to stored chemical energy in the form of carbon rich organic compounds. This energy can either be passed along the food chain into the consumer community. Enter the decomposer ecosystem where it is eventually returned to the atmosphere as the heat of respiration and Carbon dioxide or sometimes some of it can enter the geochemical cycles through fossilisation.
It is this "fossilised" store of energy that has provided the greatest part of the resources exploited by the human population over the last two centuries as, coal, oil and natural gas.
The fossil fuels only form a finite supply - they will eventually run out - as they were formed under certain geological and climatic conditions that existed on the Earth around 300 million years ago. the only way that man can extend the use of fossil fuels, is to either use them more efficiently or improve the methods of extraction so that less is wasted.
Other energy sources that humans can exploit can be renewed and either reused again or the input product produced again easily. Because of this we can characterise energy sources as either non-renewable or renewable.
| | | |
| --- | --- | --- |
| Non- renewable | Energy source | Approximate global usage (%) |
| | Oil | 38 |
| | Coal | 25 |
| | Natural Gas | 22 |
| | Uranium | 5 |
| Renewable | | |
| | Biomass (wood) | 3 |
| | Hydroelectric | 3 |
| | Wind | 2 |
| | Solar | 2 |
| | Wave | 2 |